Simone Lavine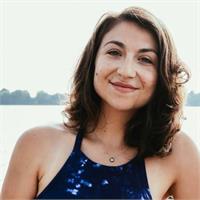 Simone has been practicing and sharing yoga since 2008, and received her 200-hour Yoga Teacher Training from YogaWorks NYC in 2014. She teaches a vigorous, dynamic flow in a safe, supportive environment. Her classes provide detailed instruction on proper asana alignment and modification options for all skill levels. When she's not practicing or teaching yoga, Simone studies Human Development and Childhood Mental Health at Temple University. Her passion for emotional wellness comes through in her yoga classes where she will encourage you to reconnect with yourself, listen to your body, and find balance on and off your yoga mat.
Simone Lavine instructs the following:
A yoga class for anyone, beginner to advanced. Join us for the signature Philly Power Yoga Power Yoga practice! We accept donations of any amount to benefit The School Mindfulness Project.

To learn more: https://www.schoolmindfulness.org/




Let our expert instructors take you to your edge and beyond with a unique sequence of flowing asana's (poses) linked together by breath. In a room heated to 90 degrees, this Power Yoga is guaranteed to increase strength, cardio-vasular endurance and flexibility. Bring a mat, towel and water, 'cause you're gonna sweat!