Kate Abernethy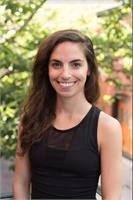 Kate received her Pilates certification in June 2016 from Drexel Pilates- a 450 hour comprehensive training program including mat, mixed equipment, and reformer exercises under the direction of Jennifer Morley. Kate holds a BFA in dance from Mount Holyoke College, and was always intrigued by Pilates and it's benefits throughout her college career. After breaking her foot while stepping off a curb, Kate turned to Pilates for a practice in moving mindfully and efficiently, which she now incorporates into her everyday life as well as her dancing. Kate teaches both mat classes and private sessions, encouraging her students to take up space while maintaining Pilates principles and to embrace challenging movement with humor and optimism.
Kate Abernethy instructs the following:
Our signature Pilates Mat Class, perfect for practitioners of all levels! This flow is geared towards beginners and advanced practitioners alike, utilizing creative modifications and amplifications. Expect a great workout utilizing all of the classical mat work and Pilates fundamentals.




Strengthen and lengthen in this open-level Pilates mat class targeting your favorite (or soon-to-be favorite) body parts. Feel strong, sexy and empowered to embrace your beautiful body!




Strengthen and lengthen from head to toe in this open-level Pilates mat class designed to help you build flexibility, strength and a balanced body. You'll flow through traditional Pilates exercises along with variations and sequences designed to challenge your entire body and leave you feeling fantastic.