Patricia Dominguez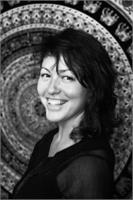 Patricia is a professional Dancer, Fencing coach and Pilates instructor. She started her Pilates journey after several skate board and bicycling accidents that threw her back out of whack, causing extreme & unnecessary pain. To put herself back together she started studying Pilates under Jennifer Morely at the Drexel Pilates program. Through Pilates she found freedom from her pain and new and improved strength! She teaches mat, mixed equipment classes and works with clients one on one.
Patricia Dominguez instructs the following:
Use the spring loaded bar and loops to perform a variety of exercises that are laying, sitting, kneeling and standing. This Pilates class also has a broader focus on strengthening all body parts with additional tough leg, standing and arm work. A challenging class for all students as well as a great way to get the experience of working with the Pilates equipment, learn technique and continue your progress!