Julie Donofrio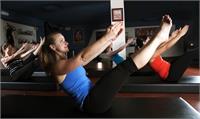 Julie Donofrio has been practicing Pilates since 2005. While living in San Francisco, Julie completed a comprehensive mat and reformer teacher training program in 2012 at Mercury Fitness Pilates under Master Trainer Lara Hudson.
In 2013, Julie returned to Philadelphia, and completed Core Mat I and II Certification in Power Pilates at Urban Front Pilates. Julie teaches primarily mat classes, with a focus on creating challenging, fitness-building sequences, with a Classical foundation.
Outside of Pilates, Julie is the director of a research nonprofit at Penn School of Design. She has an undergraduate degree from Wake Forest University, and a Masters degree from the University of Pennsylvania.
Julie Donofrio is currently not instructing any classes.