Michele Tantoco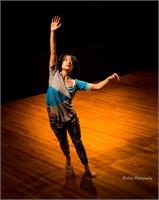 Michele Tantoco is a dancer and movement educator living in Philadelphia, PA. Michele completed her comprehensive pilates training with Jennifer Morley at Drexel University in 2014. She is interested in the practice and teaching of movement (and it's infinite modalities/techniques) as a source of strength, communication, discovery, and creativity. Michele studied biology at Bryn Mawr College (2001) and teaches yoga, pilates, and contemporary dance technique.
Michele Tantoco instructs the following:
This mat class is a great place to start for beginners or those new to Pilates altogether. The slower pace and modified exercises will help you to learn the system and prepare you to join open level mat classes as you progress.




A full intermediate/advanced class utilizing the original series of exercises as created by Joseph Pilates. This class will challenge and take you to a new level of awareness of your body and technique. Recommended for people with strong technique and experience with Pilates only.




Move mindfully through a sequence of Pilates mat exercises focused on increasing mobility, strength, flexibility and integration throughout the body. You'll have the opportunity to move at a slower, more mindful pace in order to gain a clearer understanding of how to move your body in a more efficient and healthy manner.