Nikki Campion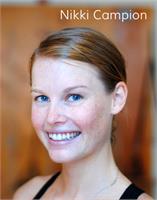 Originally from outside Boston, Nikki started practicing yoga in High School to compensate for her sports injury that left her on the sidelines. From that moment on, yoga became an important aspect of her everyday life.
Moving to Philadelphia in Fall 2011 brought her to PPY as a work-study student, learning the inner-workings of a yoga studio. Steve then took Nikki under his wing to teach her the philosophy of PPY and the classes that are so important to the PPY clientele.
Nikki has been teaching at PPY since the Summer of 2012, a nice balance from her day (and night) job as a full-time graduate student. She enjoys every minute in the studio, whether sweating it out or teaching others.
If you would like more information about Nikki or have questions/comments about her teaching, you can contact her campion.nicole@gmail.com.
Nikki Campion instructs the following:
Let our expert instructors take you to your edge and beyond with a unique sequence of flowing asana's (poses) linked together by breath. In a room heated to 90 degrees, this Power Yoga is guaranteed to increase strength, cardio-vasular endurance and flexibility. Bring a mat, towel and water, 'cause you're gonna sweat!