Lindsay Browning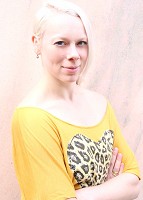 Yoga Instructor
Yoga and it's principles have become a very important nurturing part of my life. I was given the opportunity in 2010 to practice vigorously and found that the ideals that yoga offered were what I had been missing and the methods of the practice were very useful in my day to day life. The first Power Yoga class I participated in was in Boston at a Baptiste studio in Cambridge. I felt an instant connection to the flow of the style and the challenges it presented to me.
Upon completing a series of studies in early 2011 with Philly Power Yoga's Steve Gold, I began to guide Vinyasa practices. I'm determined to continue my personal investigation of yoga and am happy to continue spreading the news about the healing benefits and transformations Yoga can provide.
Lindsay's background is in Contemporary Modern Dance and Theater. She received her Bachelor of Fine Arts from Radford University in Virginia in 2005. Shortly after completing her degree she moved to Philadelphia to begin creating and performing under the umbrella of it's movement arts community. She has a history with yoga through her dance education as well as a vast knowledge of the body and it's functions through her studies of the body and it's movement potential.
Lindsay Browning instructs the following:
Let our expert instructors take you to your edge and beyond with a unique sequence of flowing asana's (poses) linked together by breath. In a room heated to 90 degrees, this Power Yoga is guaranteed to increase strength, cardio-vasular endurance and flexibility. Bring a mat, towel and water, 'cause you're gonna sweat!