Sara Ronsvalle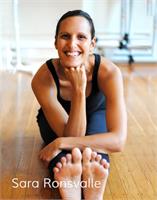 Senior Yoga Instructor, Yin Yoga and Pre-Natal Yoga
For Sara, the essence of yoga is to be present. (not so easy in an over-worked, over-stimulated world.) Yoga is a vital practice for her, one that uses the body and the breath as a vehicle to cultivate greater awareness and strength.
Sara's studio classes are taught in the vinyasa style, a dynamic synchronization of yogic breath and postures. These classes offer a good dose of athletic rigor, met by an equal sense of meditative calm. her relaxed, approachable demeanor infuses each session and encourages practitioners to "be where they are, not where their neighbor is." Private group and one-on-one sessions are tailored to specific interests and needs, and will always uphold the philosophy that yoga is a continual process of self-inquiry.
Sara is a certified yoga instructor through the Nosara Yoga Institute in Nosara, Costa Rica. She received additional training in yoga for trauma, children and pre-natal. she is forever grateful to all teachers, yoga or otherwise, who have supported her along this journey. She looks forward to joining you on yours.
Sara Ronsvalle instructs the following:
Let our expert instructors take you to your edge and beyond with a unique sequence of flowing asana's (poses) linked together by breath. In a room heated to 90 degrees, this Power Yoga is guaranteed to increase strength, cardio-vasular endurance and flexibility. Bring a mat, towel and water, 'cause you're gonna sweat!